Por año, se desechan en todo el planeta 4.5 trillones de colillas de cigarrillo. Estas representan el 30 y 40% de todos los residuos recogidos cada año en limpiezas de espacios públicos. Las colillas están compuestas por acetato de celulosa (proveniente del petróleo), un material no biodegradable que, según las condiciones ambientales, demora de 18 meses a 10 años en descomponerse. Cuando estas colillas se tiran en el ambiente, se desecha no solo ese plástico sino también la nicotina, los metales pesados y muchos otros químicos que han absorbido.
¿Qué pasa con las colillas después de que las tiramos a la calle o en la arena? Al tardar varios años en degradarse por su composición antes mencionada, las colillas generalmente son arrastradas por lluvias a las alcantarillas y terminan en las fuentes de agua más cercanas, ríos, lagos y mares. Las toxinas que poseen pueden llegar a contaminar 8 litros de agua y a medida que se van descomponiendo pueden ser confundidas por comida e intoxicar animales marinos. Esto se traduce en aguas y animales intoxicados por nuestras ganas de ganarle a la ansiedad fumando.
Tampoco hay que dejar pasar que la industria tabacalera es una de las responsables de la deforestación a nivel mundial. Cada año, aproximadamente, dos millones de hectáreas de bosques se talan para el uso de la madera en la producción del tabaco. Además de su producción, el transporte y empaquetado de los cigarrillos generan graves impactos para el medio ambiente.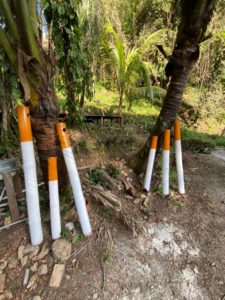 En algunas partes del mundo hay cierta posibilidad de reciclar este residuo, empresas y organizaciones como TerraCycle de Argentina o Mantis de origen chileno le dan un nuevo uso a las colillas transformándolas en materiales nuevos. Sin embargo, en el sur de la Península de Nicoya de Costa Rica no tenemos todavía una forma de reciclarlos y la única manera de reducir su contaminación es reducir su consumo. Este último mes la organización Jakera de Santa Teresa realizó una intervención en Playa Carmen instalando basureros con forma de cigarrillo para concientizar sobre su adecuado desecho. Fumar menos y no desechar las colillas en la playa o espacios públicos son los primeros pasos para reducir nuestra huella de contaminación en el océano proveniente del fumado de cigarrillos.
…
Cigarette Butts: a big problem for the ocean
Every year, 4.5 trillion cigarette butts are discarded worldwide. These represent 30 to 40% of all the waste collected each year in public spaces cleanups. Cigarette butts are made of cellulose acetate (derived from petroleum), a non-biodegradable material that, depending on environmental conditions, takes anywhere between 18 months to 10 years to decompose. When these cigarette butts are thrown away in the environment, not only are we discarding plastic, but also the nicotine, heavy metals, and many other chemicals that they have absorbed.
What happens to the cigarette butts after we throw them away? Taking several years to degrade due to their aforementioned composition, cigarette butts are generally washed away by rain into the sewers and end up in the nearest water sources, rivers, lakes, and seas. The toxins they have can contaminate 8 liters of water and as they decompose they can be mistaken for food and poison marine animals. This translates into waters and animals intoxicated by our desire to beat anxiety by smoking.
We shouldn't overlook that the tobacco industry is one of the main responsible for deforestation worldwide. Each year, approximately two million hectares of forest are cut down for the use of wood in tobacco production. In addition to their production, the transportation and packaging of cigarettes generate serious impacts on the environment.
In some parts of the world it is possible to recycle this kind of waste, organizations such as TerraCycle from Argentina or Mantis from Chile are able to give a new use to cigarette butts by transforming them into new materials. However, in the South of the Nicoya Peninsula in Costa Rica, we do not yet have a way to recycle them and the only way to reduce their pollution is to reduce their consumption. This past month, Jakera an organization from Santa Teresa carried out an intervention in Playa Carmen installing cigarette-shaped garbage cans to raise awareness about their proper disposal. Smoking less and not disposing of cigarette butts on the beach or public spaces are the first steps in reducing ocean pollution footprints that come from smoking cigarettes.