La contaminación por plástico y aguas residuales está sofocando los océanos y los animales que viven en ellos, está destruyendo la biodiversidad de las costas donde vivimos, surfeamos y trabajamos. Ocean Friendly Business, una red de negocios que implementan prácticas amigables con el océano, le brinda a los emprendedores la oportunidad de ser parte de la solución, incrementa la conciencia ambiental de cada negocio y cada cliente a la vez, impulsa el cambio de comportamiento y, en última instancia, crea un impacto escalable para reducir nuestra huella ecológica.
Durante el mes de agosto tuvimos la alegría de certificar como Negocios Amigos del Océano a tres restaurantes de Santa Teresa: El Tercer Ojo (ex Tostrometro), Nami y Somos. Cada uno de los restaurantes se hizo responsable de sus desechos, comenzó a reciclar, compostar y hacer un adecuado manejo de sus aguas residuales. También dejaron de utilizar cubiertos de plástico, estereofón, pajillas de plástico y, en vez de vender agua embotellada en plástico, le brindan a sus clientes la posibilidad de comprar agua en botella de vidrio o directamente agua potable del tubo.
El Tercer Ojo, uno de los nuevos restaurantes certificados, está ubicado al costado de una quebrada que desemboca después de unos metros en el mar. La dueña del restaurante, Glem Castro, siempre fue una fiel ambientalista pendiente de que su negocio no utilice ni venda ningún tipo de plástico que pueda dañar el medio ambiente donde vive.
De la misma forma, todo el equipo de Somos demostró, desde su llegada, una gran advocación por la conservación marina, poseen una planta de tratamiento propia para limpiar sus aguas residuales y con ellas riegan las plantas que tienen en el restaurante, apoyando la conservación y la reutilización!
Damian, el dueño de Nami, el tercer restaurante certificado, vive hace ya siete años en Santa Teresa y se preocupa por cuidar el lugar donde él, su familia y amigos viven, no quiere que su restaurante sea responsable de ningún tipo de contaminación, nos dice comprometido: "la conservación de la naturaleza es un proceso y estoy en constante aprendizaje".
Coincidiendo con Damián, Ocean Friendly Business es un acompañamiento para cualquier comercio de la zona que quiere contribuir con el cuidado del océano, con las olas, ballenas, delfines y toda la vida marina que existe. Es un proceso de aprendizaje y cambios de hábitos, que toma su tiempo, pero el que comienza el camino se dirige a un destino siempre más sustentable y consciente.
¿Te imaginás la cantidad de contaminación plástica que genera un restaurante? A través de Ocean Friendly Business los negocios dejan de comprar, vender y desechar un promedio de 1200 pajillas plásticas por mes, o sea, 14.400 pajillas por año! Solo por mencionar uno de los plástico de un solo uso más utilizado en el mundo.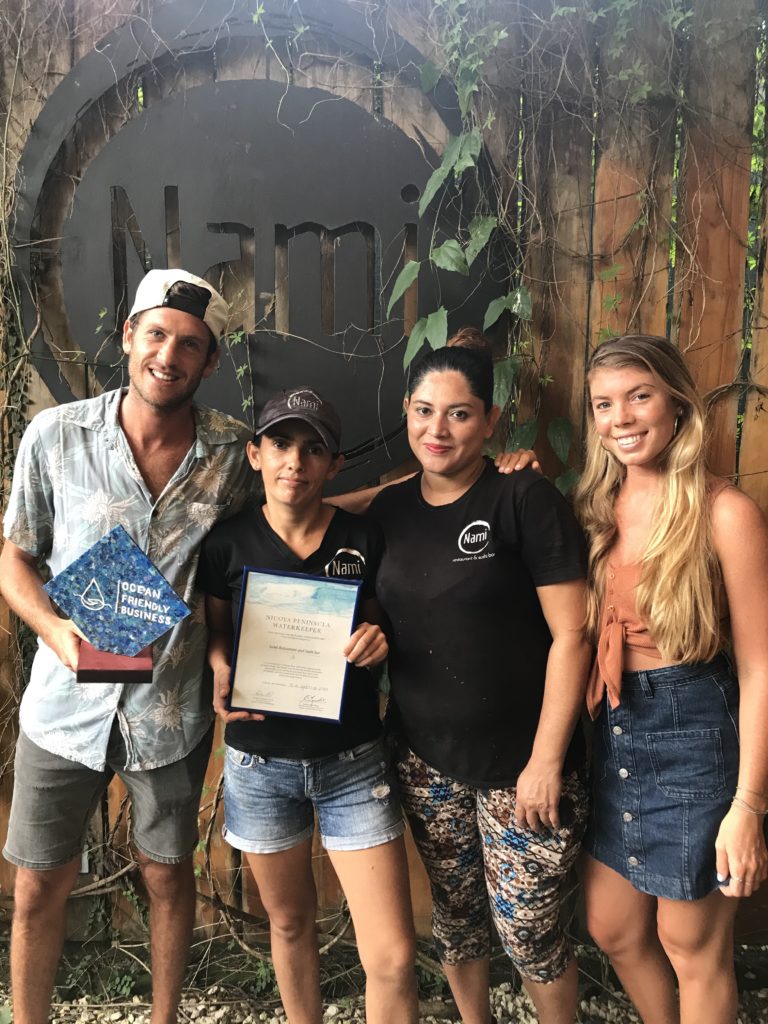 Estamos muy felices de ver todos los restaurantes del Sur de la Península de Nicoya que se están uniendo a esta iniciativa, evitando así la contaminación del mar que los turistas -sus clientes- vienen a disfrutar.
Tener en cuenta dónde y qué compramos, dónde comemos y cómo manejamos nuestros negocios es clave para generar cambios saludables para el planeta y nuestra comunidad. Queremos el océano limpio y lleno de vida. Si querés reducir el impacto de tu negocio en el océano, contactate con nosotros para unirte a Ocean Friendly Business.
…
New restaurants join Ocean Friendly Business
Plastic and sewage pollution are suffocating the oceans and their ecosystems. They are destroying the biodiversity of the coasts where we live, surf, and work. Ocean Friendly Business, a network of businesses adopting sustainable practices, provides entrepreneurs with a practical way of being part of the solution. One business, one customer at a time, this initiative helps increase awareness, drive behavior change, and ultimately, creates scalable results to reduce human impact on the environment.
In August, we had the joy of certifying three Santa Teresa restaurants as Ocean Friendly Businesses: El Tercer Ojo (ex Tostrometro), Nami, and Somos. Each of these restaurants took responsibility for their waste and began to recycle, compost, and properly manage their wastewater. They also stopped using plastic cutlery, styrofoam, plastic straws and, instead of selling plastic-bottled water, they offer their customers the possibility of buying water in glass or to drink water directly from the tap.
El Tercer Ojo, one of the new certified restaurants, is located riverside just a few meters from the rivermouth. Glem Castro, the owner, has always been a faithful environmentalist, ensuring that her business does not use or sell any type of plastic that could harm the environment where she lives.
On their end, the entire Somos team has demonstrated a great commitment to marine conservation, having their own treatment plant to treat their wastewater, reusing it to irrigate the plants they have in the restaurant, supporting conservation and efficient water use at the same time!
Damian, the owner of Nami, the third certified restaurant, has lived in Santa Teresa for seven years and certainly cares about the place where he, his family, and friends live, he does not want his restaurant to be responsible for any type of contamination, very committedly he says: "nature conservation is a process and I am constantly learning."
We couldn't agree more. Ocean Friendly Business is a process of accompaniment for any business in the area that wants to care for the ocean, the waves, whales, dolphins, and all marine life. It is a process of learning and changing habits, which takes time, but once you take a step in that direction, the path towards an ever more sustainable and conscious destination opens up.
Try to estimate the amount of plastic pollution generated by restaurants yearly. Through the Ocean Friendly Business initiative, an average business stops buying, selling, and disposing of approximately 1,200 plastic straws per month, that is, 14,400 straws per year! Just to mention one of the main single-use plastic items used around the world. 
We are very happy with all the restaurants in the Southern Nicoya Peninsula that are joining the certification, thus decreasing pollution of the ocean that tourists – their clients – come to enjoy.
Taking into account where and what we buy, where we eat, and how we run our businesses is essential to generating healthy changes for the planet and for our community. We want to keep the ocean clean and full of life. If you want to reduce your business's impact on the ocean, contact us to join Ocean Friendly Business.