Todos los años realizamos monitoreo de calidad del agua de mar y ríos del sur de la Península de Nicoya. Con el motivo de realizar proyectos basados en evidencia, realizamos muestras de 17 ríos locales y 5 playas.
Según el Programa Bandera Azul Ecológica, un galardón que premia playas costarricenses que promueven la participación local en la protección ambiental, cuando en una playa se encuentran más de 1000 UFC/100ml de coliformes fecales se considera una playa altamente contaminada. Los coliformes fecales presentes en el agua son producto de un manejo ineficiente de nuestras aguas residuales.
Con este dato en mente te dejamos los resultados de las muestras del último monitoreo que realizamos junto al AyA el 17 de junio y 24 de agosto de 2021.
Ahora la pregunta es: ¿Qué tipo de tratamiento le estoy dando a mis aguas residuales? ¿Estoy utilizando productos biodegradables para la limpieza de mi hogar o comercio? Si vivo cerca de alguno de los puntos antes dichos tengo que tomar conciencia de que yo también soy parte del problema. Si tenemos el poder de contaminar las aguas, tenemos exactamente el mismo poder para hacer algo al respecto y reducir mi contaminación.
Es este caso, el accionar es individual y cae en nuestras manos proteger los ríos y costas de los contaminantes que contienen nuestras aguas residuales.
…
How polluted are the beaches in the southern Nicoya Peninsula?
Every year we monitor the quality of seawater and rivers in the southern Nicoya Peninsula. In order to carry out evidence-based projects, we sampled 17 local rivers and 5 beaches.
According to the Ecological Blue Flag Program, an award that rewards Costa Rican beaches that promote local participation in environmental protection, when more than 1000 CFU / 100ml of fecal coliforms are found on water, it is considered a highly contaminated beach. The fecal coliforms present in water are the product of inefficient management of our wastewater.
With this information in mind, find below the results of the samples of the last monitoring that we carried out together with AyA on June 17 and August 24, 2021.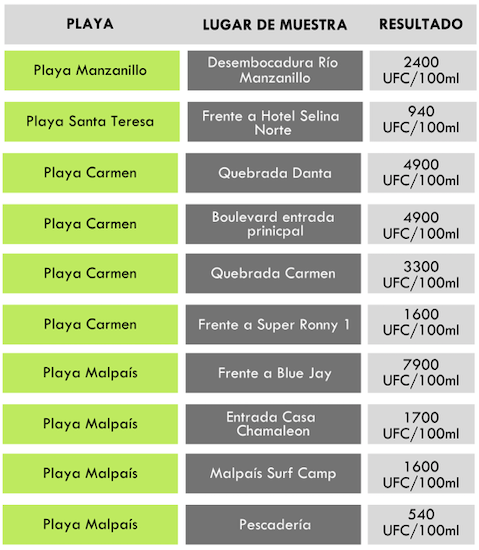 What type of treatment am I giving to my wastewater? Am I using biodegradable products to clean my house or business? If I live near any of the aforementioned points, I have to be aware that I am also part of the problem. If we have the power to pollute the waters, we have exactly the same power to do something about it and reduce my pollution.
In this case, action is individual and it falls to our hands to protect rivers and coasts from the pollutants contained in our wastewater.